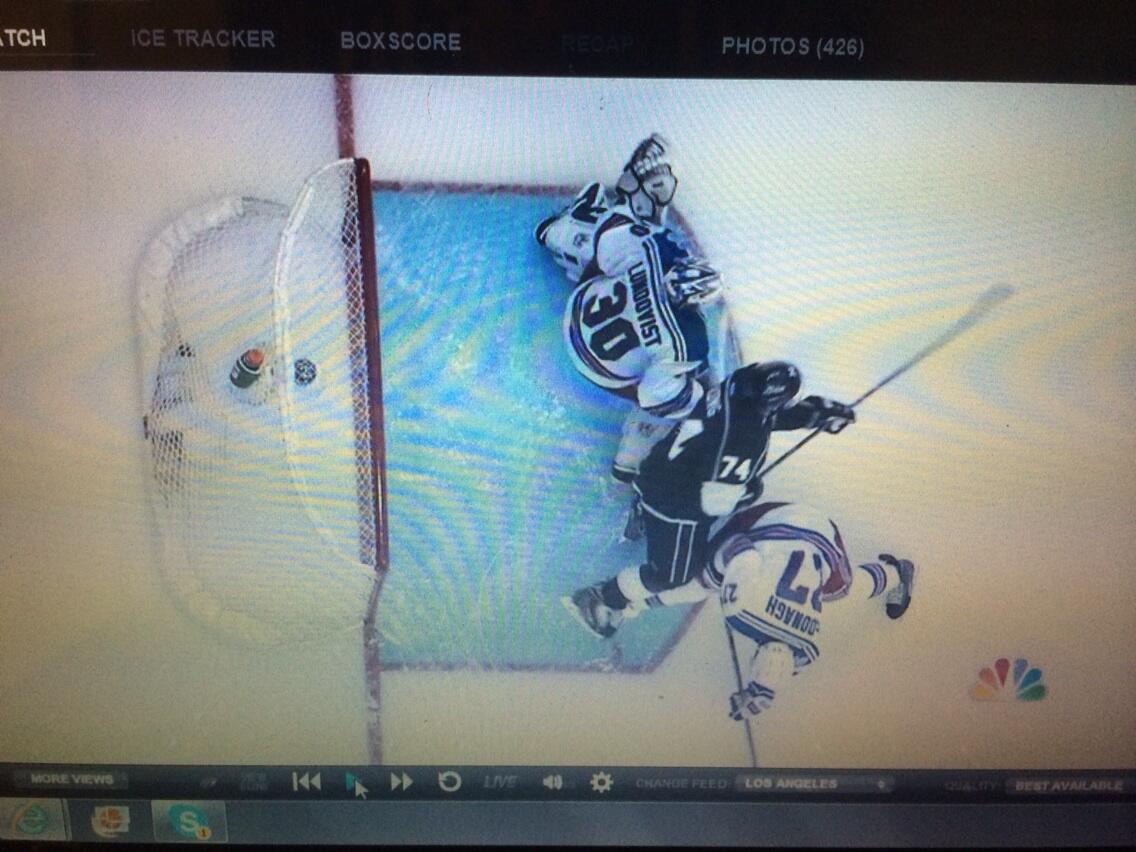 RANGERS LET ANOTHER ONE SLIP AWAY
To win a Stanley Cup, you need some luck on your side and Championship teams often get it during a Stanley Cup run.
The Los Angeles Kings have yet to lead in regulation through the first two games of the Stanley Cup Final, but have taken a commanding 2-0 series lead with back to back overtime wins.
For the second straight game, the Kings prevailed winning a thrilling 5-4 double-OT victory in Game 2.
For the Rangers, it was a game that they let slip by, holding leads of 2-0, 3-1 and 4-2, but there's no denying a missed call on a goal allowed in the third period, 1:58 in, played a big part in giving the Kings life.
In a clear goalie interference situation by Dwight King on Rangers goalie Hendrik Lundqvist, where Lundqvist's ability to stop the puck was impeded by King, King scored when a Matt Greene point shot hit him as he fell on top of Lundqvist.
The goal was allowed, cutting the Rangers lead to 4-3 and Marian Gaborik would tie the game at 4-4 mid-way through the period with his league leading 13th goal of the playoffs.
"I'm extremely disappointed on that call or non-call," Lundqvist said via
New York Post
. "They got to be consistent with that rule. We, in the second period get called for a penalty [on Benoit Pouliot] and the puck is not even there. They score a goal and I can't even move. It's extremely frustrating for them to get life like that. After that, it's a different game.
"I don't expect a penalty on the play, but they need to blow the whistle. A goalie can't move when you have a guy like that on top of you. It's such an important play of that game."
Kings was not knocked into Lundqvist by a Rangers player and the consensus from many seems to be it should have been a disallowed goal.
"King plays off McDonough, slides left into crease, initiates contact w/Lundqvist, follows w/ a hop & roll#interfere," former NHL ref
Kerry Fraser
says of the photo above of Kings interfering with Lundqvist.
"I just tried to get in front of him, and maybe get a little cover [in front], but I didn't get there," King said. "I was just fortunate for it to hit me, I guess."
Unlike Game 1, where the Kings tied the game and took over the game from there, New York didn't fall apart and the ice didn't tilt in LA's direction by any means. The Rangers arguably controlled the play in overtime and missed out on several opportunities to win the game in OT from a Chris Krieder hit post in the slot, a Kreider missed breakaway opportunity and Jonathan Quick made an excellent stop on Brad Richards right in front on a one-timer where Richards failed to raise the puck.
The chances were a plenty for New York in overtime to send this series back to New York tied at 1-1 but it was fitting that the refs appeared to miss what should have been a delay of game penalty on Alex Martinez where the puck was flipped over the glass, Dustin Brown would score the overtime winner moments later.
Not making any excuses for the Rangers, but for teams on their way to winning a Stanley Cup, you always get the type of bounces that the Kings got in Game 2. Good for them to take advantage of it.
Is the series now over? History suggests it probably is. Teams that go up 2-0 have gone on to win the Stanley Cup Final 90% of the time since the Final went to best-of-7 format in 1939.
Only five teams have done it, though, it's happened twice in the last five years.
In the 2011 Stanley Cup Final, the Bruins fell behind 2-0, losing Game 1, 1-0, and Game 2, 3-2 OT, to win the next two games at home and win the series in seven games.
It was the same story for the Penguins in 2009. Lost the first two games of the series to Detroit, then took four of the next five games to win the series in seven.
One comparison for the Rangers to the Boston – Vancouver series is that the first two games of Kings – Rangers was evenly played just like Boston – Vancouver and like Boston, New York has the better goaltender where Lundqvist has the ability to take over a series at anytime, despite his less than stellar play in Game 2.
The Kings surely look headed to their second Stanley Cup in three years, but this is a team that's lost three straight games in two different series this post-season, I'm not ready to fully bury the Rangers until we see how Game 3 goes.