PENGUINS POST-DEVELOPMENT CAMP PROSPECT PROFILE
PLAYER INTERVIEWS
By Dave Fryer, Contributor to InsidePittsburghSports.com
---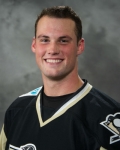 BRIAN DUMOULIN
Acquired via trade (6/22/12); Drafted in 2nd Round in 2009 (51st overall)
2013-14 Recap
Saw NHL action in 6 games with Pittsburgh, posting an assist and a +1 rating. Missed some time with Wilkes-Barre due to a few minor injuries, playing in only 53 games. Under-performed offensively during the regular season with 5 goals and just 16 assists, but emerged in the AHL post-season with 12 points in 17 games (2nd on the team). Disciplined play resulted in just 21 PIMs in the AHL.
2014-15 Outlook
Slowed progress during AHL regular season was concerning but Dumoulin's play in the post-season and his dominant performance in the prospect camp has him very strongly on the NHL radar for the 2014-2015 season. However, what could be in Dumoulin's way of emerging as a regular this coming season is a numbers game. With the Penguins planning to keep Rob Scuderi and even with Olli Maatta not expected to be ready for start of season, there will only be one available roster spot in camp, assuming the Penguins carry seven defenseman. Dumoulin also doesn't have to clear waivers.
2014 Development Camp Assessment
With Derick Pouliot unable to participate, Dumoulin ranked as the top defensive prospect at Development Camp. And he solidified that title with exceptional performances in every drill and in all of his skills, including a few goals in the drills. His gap control was clearly better than every other defenseman. He positions himself well early and uses his wide wing span and imposing size to stifle all action at the blue line. The only physical drawback in his game is a lack of burst in his initial stride. He showed that he still could use some work in game situations in his own end, though, but most of his struggles there – all of which were minor – could be attributed to the free-flow style of the scrimmage game instead of working within a defined system. But without much doubt, he was the best player on the ice at many points of the week, and he is certainly poised to make a run at a roster spot with the NHL club in September.
---
Post-Camp Interview
On his focus this summer: "I just need to keep trying to get better. The summer is not just for maintaining; it's for trying to get better. I've worked on my shot and worked obviously on my conditioning because, here, they want us up and down the ice. So the more fit you can be and the more of a threat you can be, the better."
On his overall experience at Development Camp: "I felt good. It was good getting on the ice in this environment and being more up-tempo than I normally would be during the summer. It's definitely a lot of fun. It's hard work, for sure, but I enjoy it."
On being an experienced player at camp: "I just wanted to set a good example, but everyone here handled themselves pretty well. You saw in the scrimmage and every day in practice that the work ethic was there from all the guys. So I really couldn't have done much more. Hopefully next year those guys will take it into their own hands and be leaders also."
On what he feels is an area for improvement: "I definitely need to work on my shot. But I think that's one of the easiest things you can work on because you don't even need to be on skates. You can just stand there and shoot pucks (laughed). So that's just one thing I'm definitely going to focus on, but I think it's a big one."
On his preparation for training camp: "It starts this week that you get into a routine that you skate every day now. This week really got that going for me with the work that I will put in from now until training camp. I'll just keep pushing myself to be in the best place I can be for when I come back here in September."