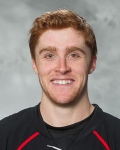 Rookie winger Scott Wilson has been recalled and is joining the Penguins playoff roster. Wilson, 22, has had an excellent rookie season in Wilkes Barre with 19 goals and 41 points in 55 games.
Penguins coaches, scouts are very high on Wilson's combination of skill and grit he plays with.
He's an ideal candidate who could come in and provide youthful energy for the Penguins but certainly not an ideal situation for a player who has just 4:21 of ice time at the NHL level.
What's not ideal is bringing him up and having him sit while missing valuable playing time in the minors.
Sources say the Penguins have recalled Wilson with the intention of him being under strong consideration to dress in the playoffs, pending how he matches up in practice.
Coaches want to see him in practice the next two days and go from there.